Skip to product information
Regular price
Sale price
$299.00
Product Features

Weatherproof waxed cotton / nylon canvas shell
Waterproof interior liner
Generous top-access main compartment
Shell compartment with 10 double shotgun shell pockets
Front shell compartment opens fully for access and utility
Dimensions: 12" (W) x 9" (H) x 4" (D)
Imported from the Caribbean
Description

The Tom Beckbe Blind Bag is a functional update to the venerable speed bags carried by seasoned sportsmen from America's flooded green timber to Scotland's grouse moor. In keeping with the traditional design, a generous main compartment is accessed through a leather-bound top opening and secured with a weatherproof flap that opens easily with a quick-release buckle concealed under the belted strap.

From there we've taken liberty with the classic design for additional functionality. This waterfowl Blind Bag is designed both to be carried cross-body for wingshooting on the move and to be hung from a peg when you've reached your blind. On the go, the front zippered shell compartment's ten double-shell pockets are easily accessible, securely carrying up to 20 shells of 12 gauge (or smaller) ammunition in elastic bound, reinforced shell pockets.

Shooting from a blind, the Blind Bag hangs securely from a solid brass d-ring located underneath the top flap. The front shell compartment can be fully unzipped in this configuration, giving you access to the main top-loading compartment, the front shell compartment, and the external front zippered pocket via a unique pass-through design. This functional design keeps all of your essentials and shells at the ready, all in one fully-accessible setup.

Constructed from our proven weatherproof Field Canvas, a unique blend of nylon and waxed canvas, the Blind Bag is also fully-lined with a waterproof nylon lining. The waterfowl Blind Bag has a cotton webbing carry handle with a leather hand pad and a D-ring under the main flap so that you can hang the bag securely while open. A 2 inch cotton webbing shoulder strap has been treated to dry quickly and resist mildew. The Blind Bag also includes an external rear zippered pocket. Dimensions: 12" (W) x 9" (H) x 4" (D). Available in two Classic Camo patterns: Timber and Marsh.
Care Instructions

Your product's thin waxed coating resists liquids and makes it relatively easy to clean. Waxed cotton should not be machine washed or dry cleaned and should be kept away from hot water and harsh detergents that will remove the wax coating. When spots occur, use a damp rag or soft bristle brush to gently buff out the stained area. If spots are particularly stubborn, use a castile soap and rinse with lukewarm water. Re-wax the area and hang to air dry in a warm place.

Generally, rinse dirt and debris by hand with cold water and air dry. Do not iron. Do not bleach. Do not dry clean. Do not machine wash. Do not use artificial heat to dry, expose to open flames, or hang on radiators.
FREE SHIPPING TO THE LOWER 48. FREE EXCHANGES. FREE RETURNS.
View full details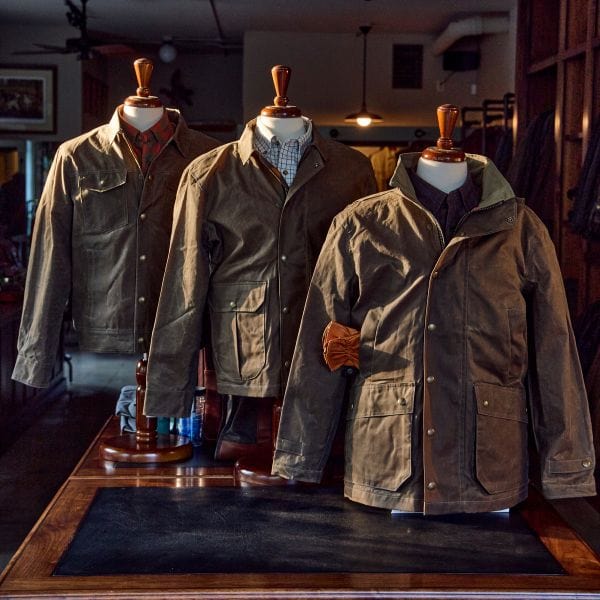 Join Our Loyalty Program
As dedicated outdoorsmen, we know the value of reliable gear and friendship. We created our rewards program to show our gratitude for you trusting us.
JOIN THE CLUB