Skip to product information
Regular price
Sale price
$285.00
Product Features

Durable, lightweight, and weatherproof 4oz waxed cotton (40%) / nylon (60%) ripstop shell
Fully lined with waterproof nylon
6.5L total storage capacity (12" (W) x 9" (H) x 5" (D))
Fold-down front pocket workstation
Adjustable waist belt and shoulder strap
Rear net slip pocket
Imported from the Caribbean.
Description

Ruggedly constructed, marrying tradition with function. 

We designed our Canvas Fishing Hip Pack to satisfy all of the storage and organizational needs of the modern angler, all while relying on time-tested, proven materials and hardware. The result is a fishing bag loaded with features that will last a lifetime.

This waxed canvas fly fishing bag has two main compartments with a total storage capacity of 6.5 liters. The large center pocket accommodates multiple fly boxes and includes four slip pockets for organization. The front pocket opens 75 degrees, providing a useful work station and easy access to an interior MOLLE panel perfect for securing tools and other fishing essentials. This pocket also includes two small strap clips. On the exterior of the bag, you'll find a front zipper pocket and two smaller gusseted snap pockets. The rear of the fishing pack is padded and has a slip pocket that holds a net comfortably against your back at a slight angle to the left or right, keeping it clear of your backcast. Four solid antique brass d-rings provide easy attachment points on both sides of the bag.

The Canvas Fishing Hip Pack secures with a padded waist belt that has a magnetic, dual-adjustable front buckle to provide the perfect fit. A 2" cross-body strap provides additional support when the bag is fully-loaded and includes a fly-patch and leather hemostat holster on one end. The waist belt is fully removable, giving you the option to carry the bag solely across your body or shoulder.

Constructed from a durable, lightweight, and weatherproof 4 ounce waxed cotton (40%) / nylon (60%) ripstop and lined with a waterproof nylon, this fly fishing bag is designed to be worn comfortably all day. Dimensions: 12" (W) x 9" (H) x 5" (D)"
Care Instructions

Your product's thin waxed coating resists liquids and makes it relatively easy to clean. Waxed cotton should not be machine washed or dry cleaned and should be kept away from hot water and harsh detergents that will remove the wax coating. When spots occur, use a damp rag or soft bristle brush to gently buff out the stained area. If spots are particularly stubborn, use a castile soap and rinse with lukewarm water. Re-wax the area and hang to air dry in a warm place.

Generally, rinse dirt and debris by hand with cold water and air dry. Do not iron. Do not bleach. Do not dry clean. Do not machine wash. Do not use artificial heat to dry, expose to open flames, or hang on radiators.
FREE SHIPPING >$95. FREE EXCHANGES. FREE RETURNS.
View full details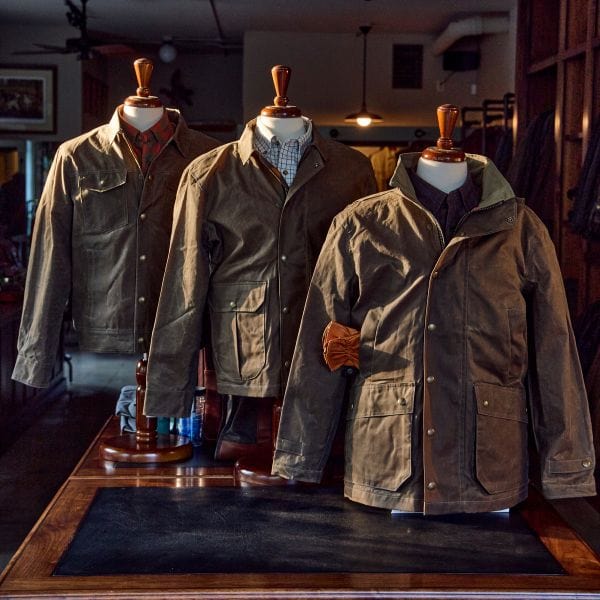 Join Our Loyalty Program
As dedicated outdoorsmen, we know the value of reliable gear and friendship. We created our rewards program to show our gratitude for you trusting us.
JOIN THE CLUB